Can you still find leprechauns in Ireland? You need to count your fingers after shaking hands with a real leprechaun. I was in Ireland for five days in April and tried to find one while I was there.
I started in Dublin. I wanted to find somewhere that had a lot of history, but a bit of mystique as well. The Trinity College Library seemed a likely spot. There was an exhibition featuring ancient manuscripts called 'Turning Darkness into Light'. It was interesting and didn't overload on information. There were four manuscripts on display, two volumes of the Book of Kells, the Book of Amagh, and the Book of Durrow.
The Book of Kells was written approximately 1500 years ago on the island of Iona, surely an ideal location for leprechauns. Although the text was so perfect and neat, and the illustrations intricate and delicate, that it was difficult to believe that it was written by ordinary human beings so long ago, but there was no reference to leprechaun involvement.
The exhibition leads into the Long Room the main chamber of the Old Library.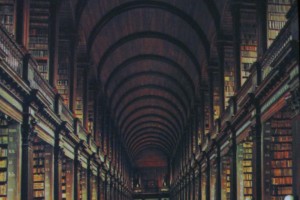 It's nearly 65 metres in length and filled with 200,000 old books. I knew immediately no leprechaun there. The atmosphere was too somber and erudite, and I got the impression that most of these tomes were serious. Nonetheless, I checked all the marble busts that lined the alcoves. There were many philosophers and writers, but no leprechauns.
That evening we dined with relatives in a fine Georgian townhouse in the centre of Dublin. There have been so many immigrants from Ireland that I think everyone in the world has relatives in Ireland. My husband, M, was no exception and we met with 18 relatives for dinner. Irish people are very aware of those who inhabit the 'other world' and the conversation included casual references to ghosts, but no confirmed sightings of leprechauns.
The next day we headed out to Cobh (pronounced Cove) in County Cork. We made a slight detour off the highway to see the Rock of Cashel. This was the traditional seat of the Kings of Munster for hundreds of years before one of them converted to Christianity in the 5
th
century.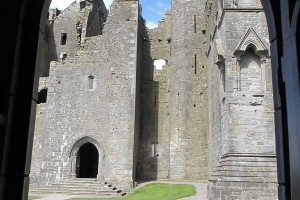 I found gargoyle faces and medieval murals, but no leprechauns. There are many theories about the round tower approximately 28 metres tall, and I was hopeful it had been a leprechaun refuge. But again lots of references to ghosts, but only silence in regard to leprechauns.
We continued on our way to Cobh. We had booked into Knockeven House, 'luxury accommodation'. It had been M's family home many years ago and he had spent a magical year there as an 8 year old. He assured me that he had met several leprechauns in the garden and had even locked one up in his tree house! Needless to say, although the house was as he remembered and we really enjoyed our stay, there was no sign of leprechauns.
I hadn't given up and we headed off in our hire car to explore the coast line. We drove west keeping as much to the coast line as we could all the way to Baltimore. We saw picturesque villages, boats, harbours and river inlets, but not a glimpse of a leprechaun.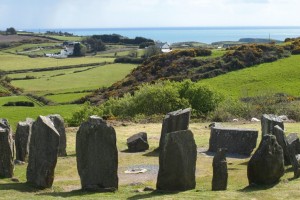 I was glad that I insisted on a detour to the Drombeg Stone Circle, a druid's altar. The centre altar stone might have had leprechaun blood on it. It was possible that the prehistoric huts in the vicinity could have been leprechaun hide-outs and perhaps the stone circle was built to commemorate their sacrifice! But then again, maybe not!
The next day we headed off further west again taking an inland route to Killarney, another picturesque tidy town. The houses looked freshly painted, the pavements looked freshly cleaned, and only the people looked worn. Many of the people, in particular the men, looked as though they had worked outside for most of their lives. Their faces were battered and creased.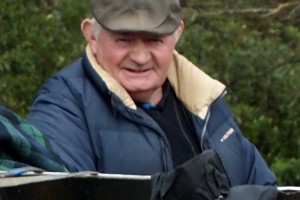 Just outside of Killarney, we stopped at Muckross House and there, finally, I met a leprechaun. His name was Jerry and he was disguised as a jaunting car driver. Anywhere else a jaunting car would be called a horse and trap. He approached M and I as soon as we parked our car, with the promise of a mystical tour of Killarney Park and the Muckross House gardens. Although it was cold, Jerry assured us that in his car, we would be as warm as toast, warm like toast, toast, very warm. Jerry repeated every sentence at least twice. He was hopeful, very hopeful, of sightings of leprechauns, but would only guarantee this if we consumed copious amounts of Guinness. Fred, his 9 year old horse, could have taken us around the grounds without a driver. Jerry, the leprechaun, whose father and grandfather had been trap drivers, showed us a leprechaun bridge, and the boathouse where leprechauns could be held until they granted three wishes. And at the end of the ride, we gave Jerry all of our gold without a murmur. It was only later as the spell wore off, that we realized that we had been grossly overcharged! In fact double the going rate! But we didn't mind, Jerry had entertained us.
This was my first visit to Ireland and it was more than I had ever imagined. It was a good mix of history, scenic countryside and welcoming people, and I hope to return to spend more time discovering its beauty.